Colorado's 3rd district historically has been a swing area, alternating between Republicans and Democrats. The oldest living former representative for the 3rd is Ben Nighthorse Campbell, a member of the Northern Cheyenne Tribe of Native Americans. Elected as a Democrat to the 3rd, he served as Congressman for six years before successfully winning a US Senate seat in 1992.
In 1994, however, his dissatisfaction with the liberal direction of Democratic Senate leadership led him to join the moderate faction of the Republican Party. Senator Campbell communicated with Elections Daily recently about political developments on the Western Slope. In order to understand his perspective, it is critical to understand his electoral and political background.
Building Bipartisan Cred
Campbell's moderate streak served him extremely well in the Senate. His overpowering margins in his native 3rd district fueled a nine-point victory over Republican State Senator Terry Considine. Campbell's crossover appeal was so strong that he won blood-red counties that have not voted Democratic since, including Rio Blanco, Moffat, and Jackson. Staunchly pro-gun and railing against the excesses of Denver liberals, Campbell was a particularly attractive candidate for conservative voters in the Colorado of 1992, significantly redder than it is now.
After switching, Campbell's appeal remained extremely strong. In the blue year of 1998, he won by 27 points, winning staunchly Democratic territory at the time. He did particularly well in Hispano-heavy areas in the south (Pueblo, Las Animas, Huerfano, and Costilla counties). Only the most inelastically Democratic areas of Boulder County, Denver, Pitkin County (Aspen) and San Miguel County (Telluride) voted against him. Thus, he built strong credentials with members of both parties and can speak to a spirit of comity that once existed in Washington. He worked with Democrats and Republicans on passing numerous pieces of legislation pertaining to monuments, water rights, Indian affairs, and other important issues facing the 3rd District of Colorado.
GOP Woes and Democratic Foes
In the decades since Campbell's 1998 win, the Republican Party has steadily declined in the state, powered by a mass exodus of the party's old suburban base into the Democratic Party. These same suburbs have grown increasingly less tolerant of the Republicans whose careers they once propelled.
Spencer Wilcox's maps show the decline of the GOP in suburbs. State Senator Kevin Priola used to easily win re-election in his suburban Denver-area seat, but now he barely held on as Biden crushed Trump in the same district. Similar conservative Republicans such as Senator Cory Gardner were routed at the ballot box in 2020 by cash-rich liberals.
Senator Campbell thinks that the hardening of partisanship is a bad thing for the country. In a comment to Elections Daily, Campbell's spokesman quoted him as saying:
I am very dismayed about the political mood on Capitol Hill. It was beginning to get more partisan the last few years he was in office, but everyone he speaks to says it is MUCH worse now. It is nearly impossible to work across the aisle anymore. Not only does leadership come down on you, but constituents are more partisan too, and they attack you if you are deemed to be friendly with the other side.
Speaking about more recent events, Campbell continued:
The folks at home couldn't wait to tear into Lindsey Graham for being congenial with his then-ranking member Dianne Feinstein at the conclusion of the Coney Barrett hearing, and his hi-five of then-Sen. Kamala Harris on the floor soon after. On the other side, Senator Feinstein was attacked for her congeniality toward Senator Graham, and now they even want to take her name off of a school because she is not progressive enough. Both are my friends and I find the attacks shameful.
Senator Campbell's comments reflect a growing division between an older generation of politicians and lawmakers who engendered mutually beneficial relationships, and our modern political sensibilities which are best described as everlasting trench warfare.
Colorado's Third, Then and Now
The Third has always been light-red, but it is a very elastic district, as we have seen with Campbell's performance from both partisan angles. Even in 2008, then-Rep. Mark Udall carried the district in his statewide bid while running a liberal campaign. After Campbell, Republican Rep. Scott McInnis represented the area for six terms, followed by Democrat John Salazar for three, followed by Republican Scott Tipton for five.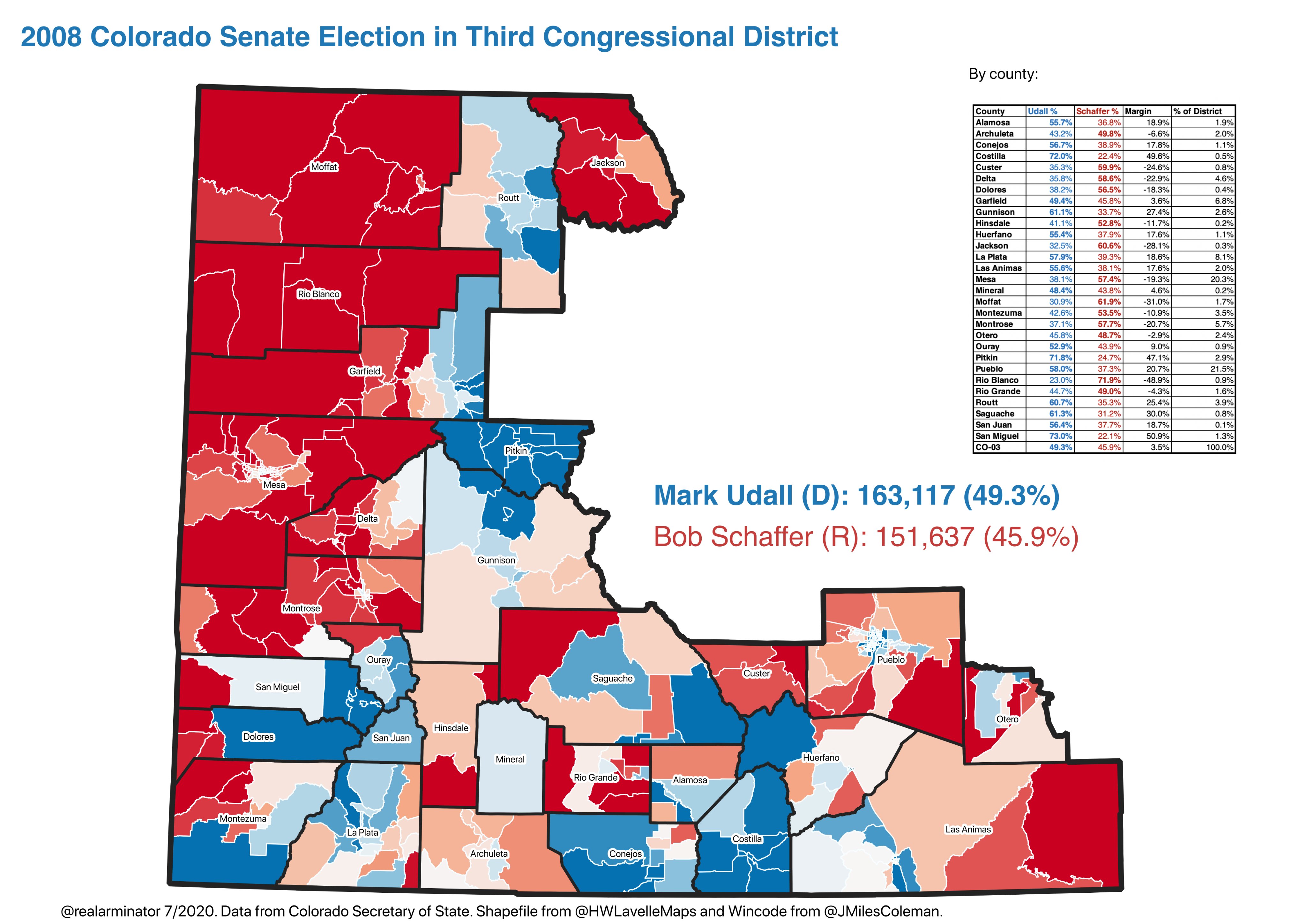 The Third exemplifies Colorado's independent-minded reputation. Campbell said that "The 3rd District has always been a competitive district that leans Republican. Although the State of Colorado has gone from purple to red to purple to blue in the last 35 years since I first won the seat as a Democrat, the 3rd District has remained virtually the same, light red."
Lauren Boebert's hard-charging conservatism is rather new to the area, and it will remain to be seen how she handles the diverse interests in the competitive district. In his statement, Campbell said that "I have not met Congresswoman Boebert, but I wish her well. In the first congress as a new member, there is a tremendous learning curve, but after that, it gets much better. I understand that she has hired some good people to help her get started and that should help".
Campbell's thoughts that Boebert is being maligned unfairly line up with his previous results-based record in Congress. It will have to be seen though, how well she lives up to his expectations.