Today, the decennial congressional redistricting process kicked off, with Colorado's independent commission releasing their preliminary district boundaries. Democrats are looking to shore up their congressional defenses in states they control. They have a razor-thin majority in the House of Representatives and are expected to suffer losses in next year's midterm elections. Given the population growth in the state's Front Range, Colorado earned an extra eighth congressional seat in reapportionment. The commission is made up of Democrats, Republicans, and unaffiliated voters from every congressional district in the state, and the members hear public comments and draw the finalized map.
Currently, Democrats hold four seats (districts 1, 2, 6, and 7), and Republicans hold three (districts 3, 4, and 5). This makeup accurately reflects the partisan breakdown of the state, in which Joe Biden attained 55% of the vote. The new eighth seat could be drawn to benefit either Democrats or Republicans, but given the rising Democratic strength in the Denver suburbs, it would stand to reason that the new seat would be winnable by a Democrat. Overall, Colorado Democrats' spread-out nature in ski-heavy rural areas, smaller cities, and large metropolitan suburbs give them a solid geographical advantage when drawing the maps.
In summary, the map can be termed as a "fair map", in that it accurately represents the statewide vote and the macro-level political geographies. It is expected that five districts would lean Democratic and three Republican on this new map. However, there are a few issues which the commission ought to take under consideration for future iterations of the next decade's map. That said, here's how the new districts look, and below, lies the descriptions of each's political geography, with presidential numbers broken down by elections analyst Ethan Chen (@ECaliberSeven):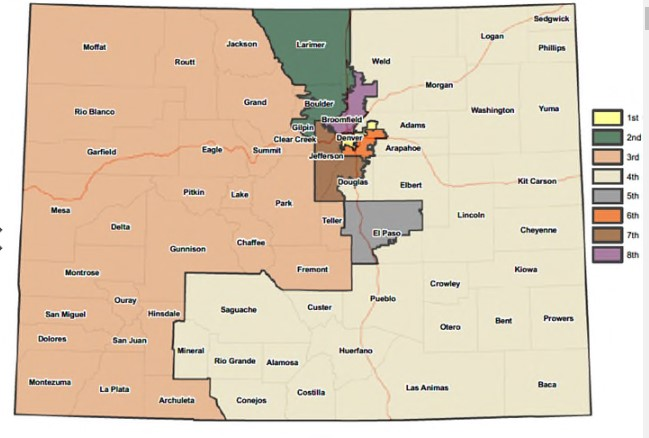 District 1: Denver
This district has existed in some form since 1914 and has been based in Denver since its inception as the 1st District. Heavily Democratic, it is essentially coterminous with the city and county of Denver. There is a heavy argument for maintaining historical precedent in this area, as the district has had similar boundaries for many cycles, and Denver is roughly the size of one congressional district worth of population.
Democratic incumbent Diana DeGette lives here and has represented the area since 1997. A staunch liberal, she has more to worry about in a Democratic primary than in a general election. Progressive insurgents have been gaining some energy in recent years, but DeGette has been able to fend off all of them. If a challenger somehow bests DeGette in a primary, they would be the prohibitive favorite in a general.
2020 Presidential Margin: Biden 80-18
Rating: Safe Democratic
District 2: Boulder and Upper Front Range
District 2 is based in Boulder and covers most of the counties of Boulder and Larimer (home to the fast-growing city in the state, Fort Collins), and all of Gilpin County. This corridor is home to numerous universities (CU Boulder and Colorado State University in Fort Collins among them) and harbors extremely liberal communities. The protrusions in western Boulder are for maintaining equality of population, as is the omission of the Larimer County portion of the city of Windsor. Not much has changed in this district in the past decade, though previously Larimer was placed in the 4th district with all of Weld County.
Democratic incumbent Joe Neguse is a rising star in the Colorado Democratic political scene, and his residence is in Lafayette, in the southeastern part of Boulder. Neguse is the first black congressman from the state, as well as the first Eritrean-American to serve in Congress. He also served as an impeachment manager during the second impeachment of Donald Trump. His voting record reflects the liberal values of his district, and thus he is also a prohibitive favorite to win re-election on these lines.
2020 Presidential Margin: Biden 65-32
Rating: Safe Democratic
District 3: Western Slope
A lot of what went into drawing District 2 also determines how District 3 would be drawn. Anchored on the Western Slope since the 1980s, it has a wide variety of communities of interest. The demographics vary from ski-country liberals to oil-and-coal communities near the Utah border, all the way to farming communities and Native American tribes in the southern part of the district. It historically has had a stubborn light red lean, voting Republican at the presidential level but remaining winnable for a moderate Democrat with a wide appeal. Until 2020, the district had alternated in sending representatives of different parties to Congress since the 1980s.
This current iteration of the seat is a clear successor to the old 3rd, drawing in all of ski country, together with the blood-red Utah border counties anchored by Grand Junction, as well as the diverse communities of Southwest Colorado anchored by Durango. Notably, the six counties of the San Luis Valley, home to many Hispano residents (descendants of 16th-century Spanish conquistadors), have been moved from the 3rd into the neighboring 4th along with Pueblo County. This is a break from precedent, as these counties have been in the 3rd since the map was redrawn for the 1980 cycle. To offset this loss of population, the district takes in blood-red Park, Teller, and Fremont counties, which are anchored by staunchly conservative Cañon City. This district is one that could illustrate a lean of the overall map, a more Democratic-skewed commission would have restored the San Luis Valley.
The 3rd is important because it is home to far-right conservative Rep. Lauren Boebert (R-Silt) in Garfield County. Boebert is famous for her unapologetic support of gun rights and gun culture. She is also known for staunchly defending former President Donald Trump and acting as a high-profile surrogate for the "Stop the Steal" movement that led to the Capitol insurrection on January 6, 2021. As an ultraconservative Republican in a light-red district, she is a lightning rod for Democratic opposition.
This redraw definitely scrambles the race to unseat Boebert, especially considering that State Senator Kerry Donovan (D-Vail) is currently the front-runner for the district. Her district is based in the heart of ski country and with all of Eagle County added in, her hand is strengthened. Conversely, State Rep. Donald Valdez (D-La Jara) from Conejos County and progressive activist Sol Sandoval from Pueblo are both drawn out of the district and are left in the much more unforgiving 4th. Donovan's path to winning a congressional primary is significantly eased should this redraw occur.
This district is overall conservative, but it has large liberal pockets that do not feel represented properly. Given the lean though, Republicans would be expected to hold it against all but the best Democratic candidate. It will have to be seen if Kerry Donovan is she.
2020 Margin: Trump 52-45
Rating: Likely Republican
District 4: Weld, Pueblo, and the Plains
The 4th district has been based in Weld County and the Eastern Plains since the modern Colorado congressional map took shape in the 1980s. This past decade, it was anchored by wealthy Republican Denver exurbs in Douglas County, but now due to the addition of the new 8th district, parts of Douglas has been traded for some more of Adams and Arapahoe (the two suburban counties surrounding Denver), and also the working-class communities of Pueblo and the San Luis Valley. Roughly one-third of the district's total population is Hispanic, on account of this new addition. Though this seat occupies a vast land area, it is in fact quite urbanized, as most of the population lives in Weld County and the Denver area. Still, though, this district is very conservative as Weld County dominates its politics.
The 4th is held by Republican Ken Buck of Greeley in Weld County. Buck is a strong conservative and served as chair of the Colorado Republican Party. His seat, currently safely Republican, will remain so. Democrats Donald Valdez and Sol Sandoval are now residents of this 4th, where running against Buck would be tantamount to a suicide mission. Sixty years ago when Democrats were far stronger in the Hispano counties and Weld this seat may have been competitive, but it takes much of southern and eastern Colorado off the map for Democrats now.
2020 Margin: Trump 59-39
Rating: Safe Republican
District 5: Colorado Springs
The 5th district has been based in El Paso County for many cycles now, and has historically been the bedrock of Republican conservatism in the state. The portion of El Paso not in the 5th has been removed for population equality and is largely rural and depopulated, making it a good fit for the 4th. Home to Colorado Springs, El Paso County boasts a large military population due to the presence of the US Air Force Academy and numerous Air Force bases. The county is home to a huge evangelical population, which have only deepened their loyalty to the Republican Party. Nevertheless, the overwhelming urbanization of the area has made it a prime area to move leftward. Where Republicans used to dominate with 60 and 70 percent of the vote they can only manage mid-50s now. Part of this trend is due to Trump but part of it is the growing Democratic alignment of college-educated and suburban whites. Joe Biden was the first Democrat to reach over 40% of the county's vote since Adlai Stevenson in 1956.
The incumbent is Republican Doug Lamborn. A staunch conservative, he has never had to worry about a competitive general election; rather, his middling approval ratings have kept him a weak incumbent. Slowly, his Democratic opponents' margins have been creeping up above 40%. This seat, which keeps all of the Colorado Springs metropolitan area, should be safe for him in all but the bluest years, but in a decade this seat could be one to watch.
2020 Margin: 54-43 Trump
Rating: Safe Republican
District 6: Aurora and Arapahoe
The 6th historically was a redoubt of Republican conservatism in the Denver area, but amid the suburban realignment and the anti-Trump revolt among educated white voters, it has become a firmly blue area. Covering the cities of Aurora, Centennial, Littleton, and reaching into Parker in Douglas County, the new district retains the general shape of its predecessor, albeit without its older arm around the Denver airport into Brighton in Adams County. This seat is now out of reach for Republicans, and Democrats are now on the upswing at most of the local level.
The incumbent is Democrat Jason Crow of Aurora. A former Army Ranger, Crow is the first Democrat to represent the 6th in history. Crow served as an impeachment manager during the First Trial of Donald Trump, and is known for aiding members of Congress in keeping safe during January's Capitol insurrection. A pragmatic liberal, Crow is on the more moderate side of the Democratic caucus, but sides with the party on key priorities. Given the partisanship of the district though, the Crow is fine, as the Democratic primary is the real election here.
2020 Margin: Biden 61-36
Rating: Safe Democratic
District 7: Douglas and Jefferson
District 7 has been based in the Denver suburbs and has always had parts of Adams and Jefferson Counties. Like the 6th, it used to be more friendly to Republicans, sending moderate conservative Bob Beauprez to Washington for two terms. In 2006, Democrat Ed Perlmutter flipped the seat and it has remained in his hands, getting bluer with each cycle. The newest iteration of the 7th from the commission though gets considerably more Republican due to the addition of heavily Republican portions of Douglas County. The current 7th voted for Biden by 23, whereas this 7th is a single-digit Democratic victory.
Ed Perlmutter lives mere yards away from the boundary with the 8th. As an incumbent he would be favored, however, it is unclear how much of the double-digit leftward shifts in the area are due to Trump's unpopularity or due to long-term electoral trends. If he were to move to a bluer seat, State Sen. Jessie Danielson would be a strong recruit for Democrats. Should there be any reversion to a redder environment in suburbs, Perlmutter could be in some trouble, given residual Republican strength. Nevertheless, Biden did comfortably win the district, so with the growing Democratic bench this seat too grows further and further out of reach for Republicans. As of now though, given 2022's likelihood of being a Republican year, Perlmutter would be best labeled a slight favorite.
2020 Margin: Biden 53-44
Rating: Leans Democratic
District 8: Broomfield and Lower Front Range
Now the last district makes its appearance. The 8th is the newest addition to Colorado's delegation, and it is based where the northern half of the old 2nd, 6th and 7th used to be, in the cities of Arvada, Westminster, Broomfield, Thornton, and Brighton. Interestingly, this is balanced out by adding red territory in southern Weld County to complement the blue in Broomfield, Adams, and Jefferson. Conservative municipalities like Milliken, Platteville, and Fort Lupton fill out the district's population. The commission stated that this district was drawn to give Hispanic residents of the Denver area a district that represents their community of interest. The cities of Thornton, Brighton, and Westminster especially have large Hispanic populations and would be an outsized influence in any Democratic primary. Overall, the resulting district is a fifth blue-leaning seat in the Denver/Front Range area.
There is no incumbent living in this district, although Ed Perlmutter could carpetbag from Golden to Arvada where he had previously lived. Democrats have a very strong bench here, where candidates like State Sen. Faith Winter, or State Sen. Dominick Moreno would all be strong candidates. Per Colorado High School Democrats chair Spencer Wilcox, "there is a lot of ambition among Democrats in the west metro". Republicans' best candidate by far would be State Sen. Kevin Priola, who narrowly won re-election to become the last suburban Republican in the chamber. The seat is still strongly Democratic-leaning, so Priola would be an underdog from the start.
2020 Margin: Biden 56-41
Rating: Safe Democratic
Final Thoughts
The district-by-district breakdown has been presented. This is just a preliminary map, and many have voiced their opposition to some elements of the redistricting plan. It is likely that there will be many more iterations of maps before the commission approves the final boundaries. Already, Senate President Leroy Garcia of Pueblo has expressed dismay at some elements of the map. It is likely that Garcia, who has been rumored to harbor ambitions for federal office, is upset that his home of Pueblo is put in the staunchly Republican 4th district. 3rd District Democratic candidate Sol Sandoval has called the preliminary map racist and an attempt to draw Hispanic candidates (herself and State Rep. Valdez) out of the race.
Democrats may not like that their primary antagonist in the state, Lauren Boebert, would inherit a seat with substantially similar partisanship. Overall, though, the statewide makeup of Colorado is reflected in the decisions used to draw this first map.
Elections Daily will cover more in Colorado as developments arise.